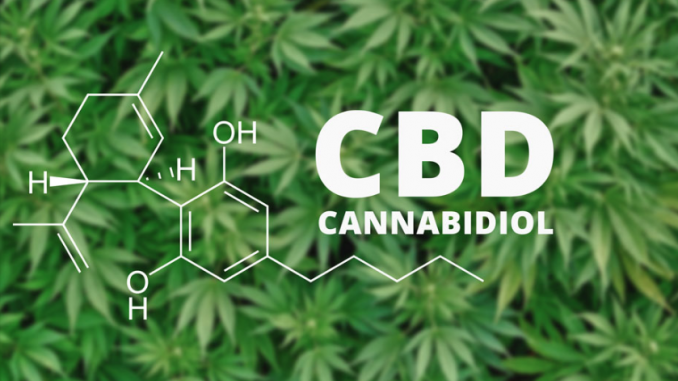 CBD is being dismissed as a medicine in various corporate media:
Ton, who co-authored a systematic review on the evidence supporting the medical use of cannabinoids, says the same – that there are good clinical trials supporting CBD use in specific seizure disorders, but not much else. He said people who claim other effects, "What they mostly quote is maybe non-clinical trials or trials that are not of high quality to support their claims."
Those doing much of the research don't share the same trepidation about CBD as the corporate journalists and the researchers they limit themselves to:
CONCLUSIONS:
In healthy volunteers, THC has marked acute behavioural and physiological effects, whereas CBD has proven to be safe and well tolerated.
https://www.ncbi.nlm.nih.gov/pubmed/22716148
Conclusions
Recent developments suggest that non-psychotropic phytocannabinoids exert a wide range of pharmacological effects (Figure 1), many of which are of potential therapeutic interest. The most studied among these compounds
is CBD, the pharmacological effects of which might be explained, at least in part, by a combination of mechanisms of action (Table 1, Figure 1). CBD has an extremely safe profile in humans, and it has been clinically evaluated
(albeit in a preliminary fashion) for the treatment of anxiety, psychosis, and movement disorders. There is good pre-clinical evidence to warrant clinical studies into its use for the treatment of diabetes, ischemia and cancer.
The design of further clinical trials should: i) consider the bellshaped pattern of the dose–response curve that has been observed in pre-clinical pharmacology, and ii) establish if CBD is more effective or has fewer unwanted effects than other medicines. A sublingual spray that is a standardized Cannabis extract containing approximately equal quantities of CBD and D9 -THC (Sativex1), has been shown to be effective in treating neuropathic pain in multiple sclerosis patients [76].
http://www.advancedholistichealth.org/PDF_Files/cannbiniods%20therapeutic%20chart%20article.pdf
WHAT IS CBD?
Cannabidiol—CBD—is a cannabis compound that has significant medical benefits, but does not make people feel "stoned" and can actually counteract the psychoactivity of THC. The fact that CBD-rich cannabis is non-psychoactive or less psychoactive than THC-dominant strains makes it an appealing option for patients looking for relief from inflammation, pain, anxiety, psychosis, seizures, spasms, and other conditions without disconcerting feelings of lethargy or dysphoria.
Scientific and clinical research—much of it sponsored by the US government—underscores CBD's potential as a treatment for a wide range of conditions, including arthritis, diabetes, alcoholism, MS, chronic pain, schizophrenia, PTSD, depression, antibiotic-resistant infections, epilepsy, and other neurological disorders. CBD has demonstrable neuroprotective and neurogenic effects, and its anti-cancer properties are currently being investigated at several academic research centers in the United States and elsewhere. Further evidence suggests that CBD is safe even at high doses.
Project CBD responds to inquiries from all over the world. Almost everyone wants to know where to get CBD-rich products and how to use them for maximum benefit. After decades in which only high-THCcannabis was available in North America and beyond, CBD-rich strains and products are now available to medical users.
https://www.projectcbd.org/about/what-cbd
In spite of near universal evidence of safety and efficacy for numerous ailments, CBD is currently being over-regulated for no good reason – only greedy reasons:
Rapid City Journal Editorial Board
A state law restricting cannabidiol resulted from South Dakota's reluctance to move quickly on anything related to marijuana. This half-way to nowhere approach makes little sense and may cause needless suffering.
CBD oil — as cannabidiol is known — can't get you high. CBD is the polar opposite of its criminal cousin THC, the psychoactive chemical in pot.
CBD oil is to THC what hardworking hemp is to its controversial doppleganger. Hemp also won't get you high.
In recent years, CBD has proven to be the only effective aid for some children suffering from severe epilepsy, but it also may be broadly helpful with nausea, anxiety and pain. Notice the "may be" — a lot remains unknown — but at least it appears harmless.
For decades, hemp's resemblance to marijuana besmirched its reputation and by extension that of CBD. Hemp's nightmare is about to end, however, thanks to Farm Bill provisions that finally recognize you can't judge a plant by its cousin. Business analysts predict a hemp explosion. Sen. Mitch McConnell championed widespread hemp because of its potential to replace tobacco, a plant that's legal despite many proven harms.
Soon we can expect to see what appear to be giant pot fields blooming all across America.
In South Dakota, however, because of a 2017 law, CBD will remain available only by prescription. The irony would be comedic if the rule didn't hurt people.
PauseCurrent Time0:00/Duration Time0:00Stream TypeLIVELoaded: 0%Progress: 0%0:00Fullscreen00:00Mute
If CBD can't get you high, the potential for abuse is nil. The health supplement sections of nearly every grocery store stand full of old-world remedies that can't get you high and may or may not work. Consider ginseng, St. John's wort, ginkgo biloba and aloe vera. Many of us try them, and if they don't work, we stop. Americans can even buy melatonin in health supplement aisles. That sleep aid requires a medical prescription in the United Kingdom, European Union, Japan, Australia and Canada. Americans generally prefer fewer restrictions. We can judge what works by ourselves.
Restricting CBD might make sense if it had even the psychoactive abilities of, say, nutmeg — which can kill you — or even alcohol, the most widely abused naturally occurring substance in the world. It doesn't.
Why did South Dakota restrict CBD? There appear to be two reasons. A British pharmaceutical company seeking to license a purified form of CBD oil lobbied lawmakers heavily. Two, the company's extract can be guaranteed pure and free of even trace amounts of THC.
It sounds reasonable if you overlook some big holes. Without regulation, how can we discern pure CBD from an adulterated product? The same way we will discern legal hemp fields from illegal pot fields. Hemp will soon be ubiquitous.
Continuing the state requirement for a prescription also makes CBD outrageously expensive and difficult to obtain. Consider the recent findings of a CBD study for epilepsy patients at the University of Nebraska Medical Center. The majority of 23 participating epilepsy patients benefited from taking CBD oil. The study used Epidiolex oral solution, the same drug approved by South Dakota lawmakers. The study's author noted the Epidiolex cost an estimated $32,000 each year. He added it will be more difficult to obtain after becoming commercially available.
Who gets hurt by the state's restrictions? The poor, the elderly, people dying from cancer. McConnell, the Republican Congress and President Trump approved widespread growing of hemp. CBD won't get anybody high. This shouldn't be controversial even though it tangentially involves pot. Lawmakers should remove the senseless restrictions.
The Alaska Department of Environmental Conservation has not approved CBD oil to be used in food, drinks or edibles, regulators said.
Trace amounts of THC in some CBD products results in a positive drug test – neither cannabinoid is more dangerous than caffeine and should be regulated as such.
By: CARLA K. JOHNSON , AP Medical WriterUpdated: Dec 21, 2018
SEATTLE – The hemp industry still has work ahead to win legal status for hemp-derived cannabidiol, or CBD oil.
The head of the Food and Drug Administration says adding CBD to food or dietary supplements is still illegal.
Related Headlines
Bartell Drugs starts selling CBD products at select locations
New CBD-focused store opens in Tacoma
President Donald Trump signed a farm bill Thursday designating hemp as an agricultural crop.
The same day, FDA Commissioner Scott Gottlieb issued a statement saying CBD is a drug ingredient and therefore illegal to add to food or supplements without approval from his agency.
Courtney Moran, a lobbyist for Oregon hemp farmers, says she plans to work with U.S. Sen. Ron Wyden, an Oregon Democrat, to nudge the FDA toward greater acceptance of CBD.
CBD is a non-psychoactive compound found in hemp, a type of cannabis plant.