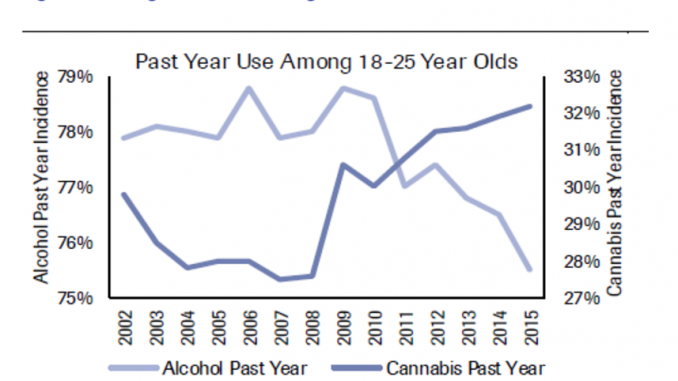 Leave it to Wall Street to come out on 4/20 with comprehensive research about the negative ramifications of rising cannabis use on alcohol consumption.
Cowen lowered its rating for Molson Coors on Thursday to market perform from outperform, saying the beer company's sales will suffer due to increasing marijuana use.
"We believe alcohol could be under pressure for the next decade, based on our data analysis covering 80 years of alcohol and 35 years of cannabis incidence in the US," analyst Vivien Azer wrote in a note to clients. "Since 1980, we have seen 3 distinct substitution cycles between alcohol and cannabis; we are entering another cycle."
The analyst noted during the three most recent cycles of alcohol consumption there was a "notable inverse correlation with cannabis use." She cited how during the 1980s and 1990s alcohol consumption fell 22 percent while marijuana use rose 18 percent.
In addition, alcohol drinking in the 18 to 25-year-old demographic has declined for five straight years through 2015 as marijuana use increased, according to Azer.
Cowen says historical alcohol consumption has a "notable inverse correlation with cannabis use."
The firm lowers its Molson Coors price target to $105 from $120 due to the risk from the rising marijuana market.