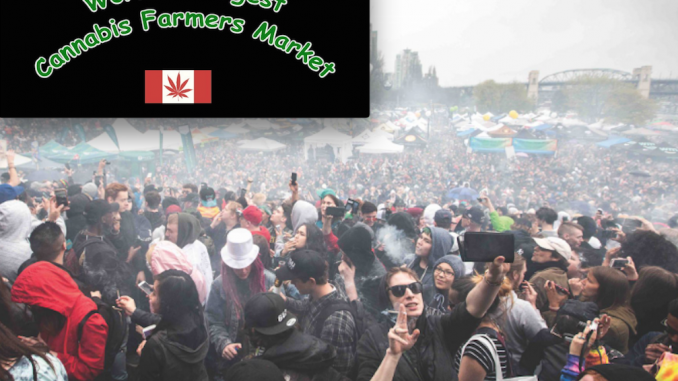 A farmer's market is a form of "vertical integration":
"A farmers' market is a physical retail marketplace intended to sell foods directly by farmers to consumers." – "Farmers' Market", Wikipedia
"In microeconomics and management, vertical integration is an arrangement in which the supply chain of a company is owned by that company." – "Vertical Integration", Wikipedia
It happens to be a growing trend in marketing agricultural products:
"Known best as owner of Agoura Hills' Maggie's Farm, Peitso has made the earth his life's work. He's been working at farmers markets since the tender age of 12 and, today, he's continued that momentum by working with both of his parents on maintaining family farms. His efforts don't end there, either. He's working on opening a vertically-integrated restaurant with a friend, where he will provide 100 percent of the produce on the menu." – "This is What a Farmers Market Farmer is Really Like (and It's Awesome)", AMANDA ZANTAL-WIENER UPDATED: OCT 22, 2018 ORIGINAL: MAY 13, 2015
"Due in part to the increased interest in healthier foods, a greater desire to preserve local cultivars or livestock (some of which may not be up to commercial shipping or yield standards) and an increased understanding of the importance of maintaining small, sustainable farms on the fringe of urban environments, farmers' markets in the US have grown from 1,755 in 1994 to 4,385 in 2006,[10] to 5,274 in 2009,[11] to 8,144 in 2013.[2]" – Farmer's Market, Wikipedia
Narbe Alexandrian, the CEO of "Canopy Rivers" – the venture-capital wing of Canopy Growth – was quoted in a story about investing in the cannabis industry in Canada, regarding what was a viable business plan within Canada's legal pot framework (the entire article of which is found below);
"Our thesis has been and will be for the next little while that vertical integration doesn't work unless you have $4 billion in cash like Canopy Growth," he said.
This "farmers' markets for billionaires only" doesn't exist in any other form on earth, nor does it reflect the wisdom of the ages;
"Moreover the profit of the land is for all …"
It's understandable why billionaires would want to limit the vertical integration of the cannabis market to themselves. This system, however, was not what was promised by Justin Trudeau when he ran on the legalization of cannabis as the main part of his platform – nor is it what Canadians seem to want.
'Canada is pretty much played out': What Canopy Rivers learned from thousands of pot pitches
Jeff Lagerquist,Yahoo Finance Canada September 5, 2019
Members of the deal team at Canopy Rivers Inc. (RIV.V) look at about seven investment opportunities a day, getting to know cannabis entrepreneurs eager for financial backing in a sector where the stigma of illegal drugs lingers.
The Toronto-based venture-capital arm of Canopy Growth Corp. (WEED.TO)(CGC) reviewed 1,523 pitches in the last 365 days, according to chief executive officer Narbe Alexandrian. His discerning Shark Tank judge-like investment scouts have inducted only 18 companies into the company's current diversified portfolio.
"We have a database of every company that we've interacted with," Alexandrian told Yahoo Finance Canada. "That whole process and system comes from the Silicon Valley world of investing, which I ported when I came from OMERS Ventures."
His tenure at the prominent technology venture-capital fund made him a natural choice for an outfit created in part by former Canopy Growth co-chief executive Bruce Linton, himself a convert to cannabis from the tech sector.
Canopy Rivers was founded in April 2017 with the goal of investing in companies the Smiths Falls, Ont.-based cannabis giant couldn't swallow. Today, it's leveraging those talks with entrepreneurs to suss out global opportunities and think beyond dried flower.
Venture-capital investment in Canada soared to a record high of $2.15 billion in the first half of 2019, according to the Canadian Venture Capital and Private Equity Association's (CVCA) latest report. Cannabis has been no exception.
"We're seeing a doubling in both the amount of money going in, but also in the number of deals taking place," Alexandrian said.
"As investors are coming in, they are going after more established companies rather than the brand new startups. That generally shows that you are getting closer to maturation. You're still far away from it, but you are seeing the maturing of the market taking place right in front of you."
For Canopy Rivers in its fiscal first quarter, that meant deploying $18.8 million into a trio of new investments in step with the firm's vision of what lies ahead for the sector. Three "areas where the puck is headed," or the three Alexandrian is willing to discuss publicly, are biosynthetics, plant science and brands.
Biosynthetic cannabinoid production eliminates the need for greenhouses and cultivation. The potentially disruptive technology involves using living cells like bacteria, algae or yeast to generate cannabinoids.
Alexandrian believes lab-created cannabinoids will be the future of the pharma industry, given the technology's ability to produce a consistent active pharmaceutical ingredient. The technology is being closely studied by Organigram Inc. (OGI.TO)(OGI) and Cronos Group Inc. (CRON.TO)(CRON). Canopy Rivers is still looking at investment options.
On the plant science front, the firm recently bet on ZeaKal Inc., a California-based company with research and development ties to Corteva Inc. (CTVA), an agriscience division spun-out from DowDuPont. Canopy Rivers announced a US$10 million investment in the company in June for an 8.7 per cent ownership stake, calling the move a "game changer" given ZeaKal's proprietary technology to improve plant yield by increasing photosynthesis.
When it comes to brands, Alexandrian said he looks for companies that "don't treat cannabis like a Sears catalogue," meaning they tell a story to the target consumer, rather than simply exist on a shelf or in an online store.
Canopy Rivers invested US$2.5 million in California-based High Beauty Inc., a brand producing non-psychoactive products aimed at consumers looking for natural and organic offerings.
Alexandrian is also eyeing opportunities to import successful U.S. brands north of the border.
"We do see a large arbitrage opportunity for bringing U.S. brands to Canada. Seeing that they are able to freely market and the internet doesn't have any borders, you can bring the brand here, put it on shelves and leverage off the branding in the U.S. without the two companies touching each other," he said.
Big changes are underway in cannabis investing that mirror the technology sector in the early 2000s, he said, including a shift away from vertically integrated companies taking cannabis from seeds to retail.
"Our thesis has been and will be for the next little while that vertical integration doesn't work unless you have $4 billion in cash like Canopy Growth," he said. "Right now, a lot of companies are doing everything themselves because they can't trust partners around them. Slowly that is going to horizontal integration, which is let's do one thing and one thing very well."
Then there's the dwindling theme of investing in cultivation and extraction in Canada, a region where he sees consumer packaged goods opportunities and ancillary businesses as the superior opportunities.
"Canada is pretty much played out. There are a lot of large licensed producers here. There is a lot of money on the sidelines as well," he said. "We're looking at Israel for the medical side, and we are looking at Europe as the new canvas where we are looking to capture as much green space as possible. We're looking at the U.S. for brands and biosynthetics."
The advent of federally permissible adult-use cannabis sales in the United States would trigger Canopy Growth's US$3.4 billion deal to buy Acreage Holdings Inc. (ACRG-U.CN), allowing the Canadian company to begin generating revenue in the world's largest cannabis market. It would also help Canopy Rivers' portfolio, as massive American venture capital firms currently stuck on the sidelines due to federal laws start sinking big money into cannabis.
"When there is more capital, valuations will start increasing. Our current portfolio will benefit from that," Alexandrian said.
"We have a bit of a power play in terms of what we are doing here because nobody has developed that Silicon Valley VC lifestyle where you not only invest capital but you're helping companies grow and are putting in effort like a pro-bono consulting shop. You don't really see that in cannabis yet," he added.
"The venture capital model isn't easy for retail investors to digest, and cannabis is a retail-driven trade right now. Our business is making money with money."
Making money, and more specifically turning a profit, gained greater attention among many industry observers following Bruce Linton's abrupt departure from the company he co-founded.
Asked if a sea change towards a profit focus is underway, Alexandrian said he hopes investors will give cannabis the same "long leash to go into negative cash flow and negative profitability in order to capture green field opportunity" that technology giants like Google (GOOG)(GOOGL) and Amazon (AMZN) were granted.
"They should be focused on redeploying capital and burning money to capture as much green field as they can. Build assets around the world, integrate them properly, and capture countries looking to legalize before anyone else," he said.
"The emphasis when you talk to investors both in the public and private space, they are not looking for profitability per se. They are looking for top line revenue. It's the larger public that for some reason equates Bruce Linton's departure to profitability, which was never the case."