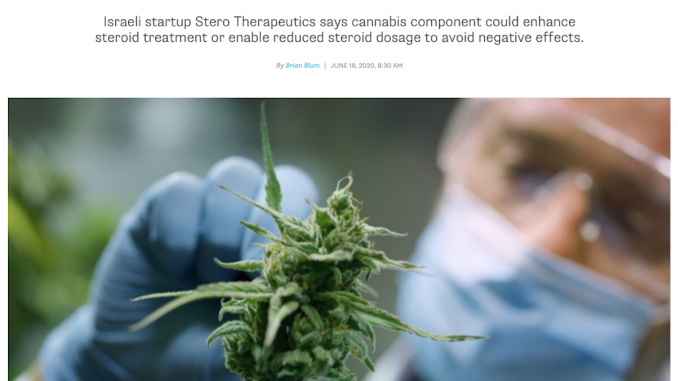 By David Malmo-Levine on September 24, 2020
Excerpt:
Cannabis Vs. COVID-19
While there has been a bit of information that hint at cannabis as a source of antiviral action, (685) and while at least one group is conducting a clinical trial involving cannabis's role in boosting the immune system in response to COVID-19, (686) and while the role of hemp seed oil in maintaining a healthy immune system should not be ignored, (687) a recent literature review has ignored hempseeds completely, typified the evidence for anti-viral activity as "rare", and instead pointed to cannabis's role as an anti-inflammatory agent as a potential treatment of COVID-19. (688)
This author's own literature review can confirm that cannabis's role as an anti-inflammatory for COVID-19 shows the most promise – or at least provides the largest array of evidence – and so that's the area that will be investigated in this article.
Inflammation Information
Given Canada's long history of cannabis activism and cannabis culture, and Canada's recent legalization/cartelization of certain parts of the production and distribution supply lines, it comes as no surprise that Canadian companies are a world leader in cannabis/COVID-19 research. Israel, home to Raphael Mechoulam (the discoverer of THC) and longstanding center of cannabis research for decades, is right alongside Canada in researching cannabis and COVID-19.
Image #260 from geaseeds.com/blog/en/raphael-mechoulam
In April, the Canadian company InnoCan, along with it's Israeli subsidiary – InnoCan Pharma Ltd. – announced their project involving both CBD and stem cell-made non-self-replicating micro-messengers called "Exosomes":
"Herzeliya, Israel and Calgary, Alberta–(Newsfile Corp. – April 17, 2020) – InnoCan Pharma Corporation (CSE: INNO) ("InnoCan" or the "Company") announced that its wholly-owned subsidiary, InnoCan Pharma Ltd. of Herzliya Israel, has entered into a sponsored research agreement dated April 17, 2020 (the "Research Agreement") with Ramot at Tel Aviv University ("Ramot") to collaborate with Tel Aviv university to develop a novel, revolutionary approach to treat COVID-19 by using Cannabidiol (CBD) loaded Exosomes ("ICLX"). Under the terms of the Research Agreement, InnoCan and a team led by Prof. Daniel Offen, a leading researcher specializing in Neuroscience and Exosome technology at Tel Aviv University, will collaborate to develop the cell therapy product, based on Prof. Offen's work in the field. Innocan has agreed to fund the research based on agreed milestones, in the aggregate amount of approximately US $450,000 for the first stage. InnoCan and Ramot are collaborating on a new, revolutionary exosome-based technology that targets both central nervous system (CNS) indications and the Covid-19 Corona Virus. CBD-Loaded Exosomes hold the potential to provide a highly synergistic effect of anti-inflammatory properties and help in the recovery of infected lung cells. This product, which is expected to be administrated by inhalation, will be tested against a variety of lung infections. Exosomes are small particles created when stem cells are multiplied. Exosomes can act as "homing missiles", targeting specific damaged organs and have an important role in cell-to-cell communication. When the cell healing properties of the exosomes are combined with the anti-inflammatory properties of CBD, it is expected to reach high synergetic effect. The research results may be beneficial to additional treatments for Central Nerve System ( CNS ) indications such as epilepsy and Alzheimer's Disease." (689)
Image #261 from twitter.com
Stero Biotechs, another corporation headquartered in Israel, announced another CBD/COVID-19 project in April;
"Steroid treatment is usually the first or second line of treatment for hospitalized patients. CBD enhances the therapeutic effect of steroid treatment and treats the bio-mechanism affected by the virus. The initial study will evaluate the tolerability, safety, and efficacy of the CBD treatment, for hospitalized patients with COVID-19 Infections." (690)
Image #262 from israel21c.org
CannaSoul and Eybna, cannabis-specific companies also headquartered in Israel, are also involved in COVID-19-related research:
"The novel formulation is designed to be consumed by direct inhalation. CannaSoul Chairman, Professor Dedi Meiri of the Israel Institute of Technology, said: 'Our lab has been approved to operate as a corona lab, and in doing so, we are promoting two studies based on existing cannabis studies. First, we will try to identify the plant's own molecules that are capable of suppressing the immune response to the COVID-19 coronavirus – which causes inflammation and severe disease – to lower the immune system response without suppressing it, thereby providing better complementary treatment to the steroids, which completely suppress the immune system.' The second study is looking at the ACE2 receptor – which allows the virus to inject its genetic expression into human cells and proliferate. Meiri continued: 'There is a process that examines the effect of cannabis molecules on proteins as well, and we are now examining which ones are relevant to the same receptor, with the goal of reducing its expression, making it difficult for the virus to enter the cell and proliferate.' Eybna's CEO, Nadav Eyal, said that: 'This type of delivery method is a game-changer, enabling us to achieve therapeutic qualities from these unique phytochemicals like never before.' The studies hope to provide treatment for viral infections via modulation of 'Cytokine Storms'. A number of COVID-19 cases have been linked to 'Cytokine Storm Syndrome' whereby the immune system goes into overdrive and releases too many cytokines – proteins important in cell signaling – into the body at once, attacking healthy lungs and causing massive organ failure. The collaboration will enable CannaSoul's analytical expertise, which is based on accumulated clinical data, and Professor Meiri's pioneering research to customise Eybna's novel terpene formulation for optimising its anti-inflammatory and anti-viral properties." (691)
Image #263 from calcalist.co.il
Also in April, Tetra Bio-Pharma – a group run out of Ontario – announced their SARS-COV-2-related project involving their "synthetic cannabinoid drug" named "PPP003":
"Panag Pharma's (Panag), a subsidiary of Tetra, PPP003 is a synthetic cannabinoid drug that selectively acts at the type 2 cannabinoid receptor (CB2R). "Panag's scientific team and academic collaborators have been studying the role of the CB2R in acute immune responses for over a decade. The active molecule in PPP003 can reduce inflammation and dampen pro-inflammatory cytokine release, therefore, PPP003 should be carefully examined as a candidate drug to help reduce symptoms of acute lung inflammation and immune system dysregulation in those SARS-CoV-2 patients at risk", states Tetra's CSO, Dr. Melanie Kelly, Ph.D." (692)
For those who are more interested in non-synthetic cannabinoid medicine, some of the most promising research in the world is happening right now at the University of Lethbridge, in Alberta:
"Cannabis extracts are showing potential in making people more resistant to the novel coronavirus, says an Alberta researcher leading a study. After sifting through 400 cannabis strains, researchers at the University of Lethbridge are concentrating on about a dozen that show promising results in ensuring less fertile ground for the potentially lethal virus to take root, said biological scientist Dr. Igor Kovalchuk. 'A number of them have reduced the number of these (virus) receptors by 73 per cent, the chance of it getting in is much lower,' said Kovalchuk. 'If they can reduce the number of receptors, there's much less chance of getting infected.' Employing cannabis sativa strains over the past three months, the researcher said the effective balance between cannabis components THC and CBD — the latter more typically associated with medical use — is still unclear in blocking the novel coronavirus. 'It will take a long time to find what the active ingredient is — there may be many,' said Kovalchuk, whose Pathway RX is owned partly by Olds-based licensed cannabis producer Sundial Growers and partnered with Alberta cannabis researcher Swysh. But it's generally the anti-inflammatory properties of high-CBD content that have shown most promise, he added. 'We focus more on the higher CBD because people can take higher doses and not be impaired,' said Kovalchuk. The study under Health Canada licence using artificial human 3-D tissue models has been seeking ways to hinder the highly contagious novel coronavirus from finding a host in the lungs, intestines, and oral cavity. If successful, the work could find practical medical use in the form of mouth wash, gargle, inhalants or gel caps, said Kovalchuk. 'It would be cheaper for people and have a lot less side-effects,' he said. But the absence of clinical trials remains a barrier, and funding from an increasingly cash-strapped cannabis industry isn't there to fuel that, said Kovalchuk. 'We have clinicians who are willing to work with us but for a lot of companies in the cannabis business, it's significant cash that they can't afford,' he said. The scientist emphasized the findings wouldn't lead to a vaccine — something 'less specific and precise' but nonetheless another possible weapon against COVID-19. 'The extracts of our most successful and novel high CBD C sativa lines, pending further investigation, may become a useful and safe addition to the treatment of COVID-19 as an adjunct therapy,' said Kovalchuk. 'Given the current dire and rapidly evolving epidemiological situation, every possible therapeutic opportunity and avenue must be considered.' Israeli researchers have begun clinical trials of CBD as a treatment to repair cells damaged by COVID-19 by using its anti-inflammatory abilities. It's thought CBD could enhance the traditional effect of steroids in such treatment of patients in life-threatening condition and also bolster the immune system. It's the kind of research and his own that deserves government support in Canada, whose federal government has pledged $1.1 billion in funding for COVID-19 research said the U of L scientist. 'Our work could have a huge influence — there aren't many drugs that have the potential of reducing infection by 70 to 80 per cent,' he said." (693)
Image #264 from lethbridgenewsnow.com
These researchers have gotten international attention:
"Researchers at the University of Lethbridge recently released results from a study that shows the benefits of CBD as an aid in blocking the cells that enter the body from the novel coronavirus. The study, published in peer journal Preprints, was conducted by the scientists in April, and the results were released in a non-peer-reviewed, preclinical study titled 'In Search of Preventative Strategies: Novel Anti-Inflammatory High-CBD Cannabis Sativa Extracts Modulate ACE2 Expression in COVID-19 Gateway Tissues' earlier this month, according to a release from pharmaceutical research company Pathway RX. The study is a partnership among the university, Pathway, which works to develop cannabis therapies to treat specific diseases, and cannabinoid-based oral health company Swysh Inc. The researchers in Alberta, Canada, conducted a study using artificial 3D models of oral, airway and intestinal tissues coupled with a limited sample of high CBD Cannabis sativa extracts modulate ACE2 gene expression and ACE2 protein levels. The results indicated hemp extracts high in CBD may help block proteins that provide a 'gateway' for COVID-19 to enter host cells. 'Angiotensin-converting enzyme 2 (ACE2) has been generally accepted by the scientific community as a receptor required for the entry of SARS-CoV-2 into human cells,' said Dr. Igor Kovalchuk, CEO of Pathway Rx and holder of a Health Canada License for Cannabis Research. He added that, 'Our initial findings warrant further investigation but it's possible that medical cannabis products could become a safe adjunct therapy for the treatment of COVID-19.' The study results were recently shared publicly, and the research paper was submitted to a scientific journal for peer review, according to Pathway Rx. Among the 1,000 Cannabis sativa varieties that have been screened by Pathway Rx, only a small number have expressed medicinal properties. The research company is seeking funding to continue its efforts to support scientific initiatives to address COVID-19." (694)
Image #265 from 420intel.ca
On the Preprints page's comment section, the CEO of Pathway Research – Dr. Igor Kovalchuk (695) – has responded to certain questions with additional details regarding the study:
"Received: 22 May 2020 Commenter: Igor Kovalchuk . . . 'Thank you for your questions Anon. These are unique varieties. There is no intention to hide them, but they are not available commercially yet because there should be a clinical trial to validate our finding. Hope this helps. Igor'"
"Received: 25 May 2020 Commenter: Igor Kovalchuk … 'All varieties were hybrids produced in our lab; they don't have common names and are not commercially available yet.'"
"Received: 25 May 2020 Commenter: Igor Kovalchuk … '… it is not a 'strain' of CBD, but extracts high in CBD, meaning that CBD is a dominant molecule in the extract. Hope this helps. Igor'" (696)
When asked by a commenter ". . . why not test CBD isolate directly?", Kovalchuk replied "Yes, we are working on single cannabinoids now." (697)
Image #266 from Covid-19 & Cannabis Research, May 29, 2020, Future Cannabis Project, youtube.com
This team also published a different report a month later, mentioning the "lines" or cultivars (by code number, not by name) of cannabis that were most useful as anti-inflammatory agents:
"We noted that out of seven studied extracts of novel C. sativa lines, three (#4, #8 and #14) were the most effective, causing profound and concerted down-regulation of TNFα, IL-6, CCL2, and other cytokines and pathways related to inflammation and fibrosis. Most importantly, one of the tested extracts had no effects at all, and one exerted effects that may be deleterious, signifying that cannabis is not generic and cultivar selection must be based on thorough pre-clinical studies." (698)
Media coverage of this second preliminary report reveals the "soft-drug" nature of the research material in question:
"Igor Kovalchuk says it's generally recommended that THC dosage be limited to 25 mg a day to prevent impairment, so the strains they are studying as potential answers for COVID-19 would allow a dose of 500 mg of CBD without hitting that limit. Cannabis has a good safety profile and often can improve quality of life through reducing anxiety, improving sleep and boosting appetite, says Olga Kovalchuk." (699)
Image #267 from theglobeandmail.com
Of course, what isn't being said but should be said is that – if cannabis – or even just industrial hemp – wasn't over-regulated as if it was a lethal narcotic drug but rather the non-toxic, non-lethal herbal medicine/co-evolutionary plant partner that it actually is, there would be millions of small empirical tests going on in gardens all over the world with hundreds of thousands of cultivars, with all kinds of people growing various types of low-THC high-CBD hemp and testing these extracts out on themselves as anti-COVID-19-related-inflammation agents, rather than the exclusivity relationships that limit hemp research to the absolute minimum number of participants, in order to profit the few at the expense of the many.
To that effect, this author reached out to the Lethbridge team at Sundial Growers Inc. on July 16th with and email with four questions:
"1) Was it difficult obtaining a license to do the research?
2) When are the clinical trials expected to be completed?
3) Will the cultivars that are found to be clinically useful be available to purchase in viable seed, feminized seed, and/or clone form? Will the general public be able to purchase them?
4) Olga Kovalchuck was quoted in the media as saying "Cannabis has a good safety profile …". (link attached) How can a herb be so dangerous as to warrant strict regulations that prevent most people from growing it and researching it, and yet at the same time have such a good safety profile? Do the dangers of cannabis mis-use justify the strict regulations surrounding its growing and use?
Thank you for your time and attention to this matter." (700)
I received a reply on July 21st from their Director of Communications and Stakeholder Relations, Claire Buffone-Blair, which stated;
"I have forwarded your email to the lead investigators of the study and the holders of the research license. They will be in touch." (701)
Image #268 from twitter.com
It's now August 1st and I have yet to get a reply. If they ever do get back to me I will post their response in a separate article on CannabisCulture.com. I can't imagine what they will say, though. They're in the unfortunate position of trying to save the world working within unfair regulations, but pointing out the regulations are unfair may hurt their chances of success somehow. But without such pointed questions being asked as often as possible, what chance is there to make the situation more fair?
Cannabis's role as an anti-inflammatory as the basis for research into it's possible therapeutic effect with regards to COVID-19 has been confirmed by an Italian study, published in June:
"We have discussed the clinical features of SARS-CoV-2 infection, including the severe acute inflammation that causes cytokine storm in COVID-19 patients. CB2 receptors stimulation is known to exert anti-inflammatory and immunomodulating effects by reducing the release of pro-inflammatory cytokines, by shifting the M1/M2 ratio towards the anti-inflammatory M2 macrophage phenotype and by improving the MSCs-repairing properties. It is also well documented that human lungs, macrophages and MSCs, express CB2 receptors. Estrogens exert a protective effect in COVID-19, which explains sex-specific differences observed in SARS-CoV-2 infection. This could also be related to a CB2 activation. We suggest therefore, the possibility of using CB2 as a pharmacological target for the treatment of SARS-CoV-2 infection. We hypothesize that the selective stimulation of CB2 could reduce the inflammatory response in SARS-CoV-2 patients and could improve the outcome. The stimulation of CB2 could control the inflammatory cascade in several checkpoints, considering its capability to reduce the production of a large number of cytokines, contrarily to the extremely selective action of monoclonal antibodies directed against a specific interleukin. On the other hand, CB2 receptor stimulation has a well-documented immunosuppressive effect by reducing immune cells proliferation and production of antibodies; thus, it could be greatly beneficial in containing the exacerbated inflammatory response in COVID-19 patients. To date, there are no commercially available agonists, approved for the use in human subjects, that specifically bind to CB2 receptors. HU910, HU308 and JWH133 have high specificity to CB2 receptors and are recommended to study the role of this receptor in biological processes and diseases. Cannabidiol (CBD) is also involved in modulation of inflammatory processes through a CB2-dependent mechanism. It induces CB2 activation indirectly, by increasing AEA levels, and exerts its anti-inflammatory properties by reducing pro-inflammatory cytokines release in experimental model of allergic contact dermatitis. A novel ∆9-tetrahydrocannabinol (∆9-THCP) binds with high affinity to both human CB1 and CB2 receptors. In particular, the affinity shown for CB1 is thirty-fold higher compared to the one reported for Δ9-THC in the literature, and it was 5 to 10 times more active on the CB2 receptor. It has also been demonstrated that Δ9-THCP showed a cannabimimetic activity several times higher than its pentyl homolog Δ9-THC, also at lower doses. Nevertheless, more studies are necessary to develop a commercially available CB2 selective agonist, and clinical studies with the available phytocannabinoids should be encouraged. Another interesting field of investigation could be the screening of COVID-19 patients for CB2 Q63R. In this way, it would be possible to clarify if, also in this case, the variant is a predisposing factor to the infection and also if it is associated with the appearance of the most severe side effects (respiratory distress, pulmonary fibrosis and death). All these actions could produce better knowledge on SARS-CoV-2 pathogenesis and significantly improve the management of COVID-19 patients." (702)
Image #269 from ncbi.nlm.nih.gov/pmc/articles/PMC7312493
The above information demonstrates genuine interest from both the cannabis-research community and the medical community in some of the chemical constituents of cannabis to both block and treat COVID-19 infections.
Image #270 from edition.cnn.com